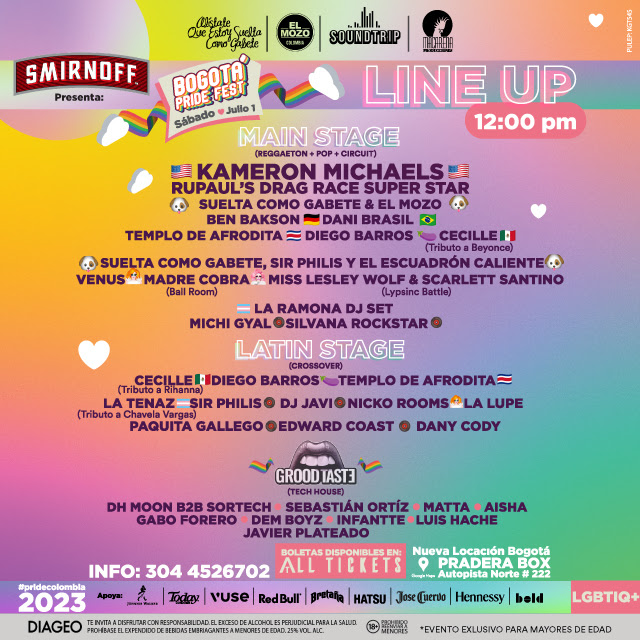 Bogotá Pride Fest: Celebrating Freedom and Diversity in the Heart of the Capital
In its third edition, the Bogotá Pride Fest is set to transform the capital into a vibrant celebration of love, freedom, and inclusivity. This eagerly awaited event will take place on July 1, 2023, at Pradera Box, starting at 12:00 p.m., offering 15 hours of urban, pop, and electronic music, as well as showcasing new artistic talents from the city.
Prepare yourself for an unforgettable party brought to you by 'Alístate Que Estoy Suelta Como Gabete' and 'El Mozo Colombia,' who will ensure an electric atmosphere to commemorate LGBTQI+ Pride Month. The festivities will include live performances, a vibrant dance floor, an entrepreneurship fair, and a diverse culinary experience.
The festival's main stage will feature an awe-inspiring show by Ru Paul's Drag Race superstar, Kameron Michaels, leaving attendees breathless. Additionally, the temperature will rise to a scorching 200 degrees with Sir Philis, the Escuadrón Caliente, and the intense rhythms of Suelta Como Gabete.
The Bogotá Pride Fest boasts three distinct areas: the Main Stage, the Latin Stage, and the Electro Stage, curated by the renowned Grood Taste collective from Medellín.
Highlighting the lineup are Latenaz, paying tribute to Chavela Vargas, and Diego Barros, the world's most successful OnlyFans model, with a captivating performance. You won't want to miss the sets by Dani Brasil and Ben Bakson, delivering unforgettable musical experiences.
For pop music enthusiasts, Cecille will grace the stage all the way from Mexico, enchanting the audience with her spectacular Beyoncé and Rihanna tribute show.
Of course, no Pride Fest would be complete without the dazzling performances of Colombia's most recognized Drag Queens: Miss Lesley Wolf, Venus, Scarlett Santino, and the legendary artist, La Lupe, bidding her official farewell at this edition of the festival.
To attend this exclusive event for adults, tickets can be purchased at allticketscol.com. General admission tickets are priced at $60,000 COP plus a $5,000 COP service fee, while VIP tickets are available for $80,000 COP with a $87,000 COP service fee. For an extraordinary experience, consider the VIP + Meet & Greet package with Kameron Michaels, priced at $250,000 COP plus a $21,000 COP service fee.
Transportation services, including buses and vans, will be provided from 12:00 p.m. If you prefer to drive, you can also hire a designated driver service to ensure a safe journey. Simply call 316 438 6808 to make arrangements.
The Bogotá Pride Fest has relocated to Pradera Box, a mere 15-minute drive from Calle 170, offering a more accessible location for attendees.
Mark your calendars for July 1, 2023, and get ready to immerse yourself in a colorful and joyous celebration of diversity at the Bogotá Pride Fest. Join thousands of like-minded individuals as you embrace love, freedom, and equality.